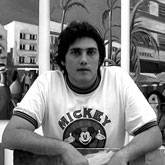 Didier Lourenço was born in 1968 in Premià de Mar, Barcelona. At the age of 19, he began working in his father's lithography atelier, where he learned the trade of lithography.
In 1988, Didier made a corner of the atelier his place for painting on canvas and paper. He shared his time between painting and printing lithographs for himself and professional artists. The atelier would prove to be his best classroom, a place where Didier would build his education in the world of painting. That year he presented his first individual show and also edited his first collection of lithographies.
In 1991, Lourenço won a prestigious prize for young artists making a breakthrough into many galleries throughout Spain showing in various solo and group exhibitions.
In 1995, Didier Lourenço moved into his own studio, where he would devote himself to painting, but never stop making lithographs.
In 2000, Winn Devon, a prestigious publisher and distributor, of posters took his work worldwide. This global presence quickly sparked the interest of galleries who would present his original work. Didier traveled around the world to his solo exhibits in New York, Seattle, Los Angeles, Hong Kong, Puerto Rico, New Orleans, Nashville, South Africa Las Vegas, Miami, Singapore, among others.
His days are filled with trips and exhibitions. Their individual and collective shows continue.
When asked about his Muse collection Didier had this to say
"A woman on a bike followed by butterflies; maybe these butterflies follow the sweet smell of her scent, or maybe they follow her beautiful eyes, or maybe they are just casually on their way. This collection, MUSE, talks about intimacy, timidity, innocence, tenderness, joy, delicacy, and love." ~ Didier Lourenço
To view Didier Lourenço's Muse Collection, ↪ click here now.